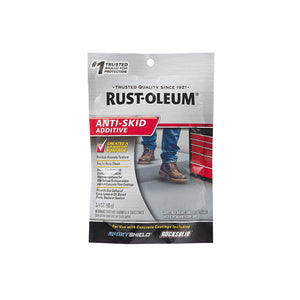 Mix Rust-Oleum® Anti-Skid Additive into any latex, oil-based, or epoxy paints, stains, or sealers and it will create a skid-resistant coating. Made from aluminum oxide, it creates a hard finish for maximum abrasion- and slip-resistance.
👍 Great to add to paint used on horizontal surfaces such as concrete, wood, metal, or fiberglass.
Product Advice
Paint Quantity Calculator
1 gallon of paint will cover ~400 sq ft. Whereas 1 quart of paint will cover ~100 sq ft. To get a rough estimate of how much paint you will need, run through these steps: 


1. Add together the length of each wall. 
2. Multiply the sum of the wall length by the height of the wall to find the total square footage of your room.
3. Subtract 20 square feet for each door and 10 square feet for each window.
4. Multiply that final room square footage number by 2 to get the total square footage for 2 coats of paint.
5. Divide the number by 400 (gallon = 400 sq ft) to determine the number of gallons you need to purchase for 2 coats of paint.